Music for wedding films, delivered twice a month to your inbox.
We search through hundreds of new tracks to find the perfect songs to use in our own films. Now you can have our favorites sent directly to you every month.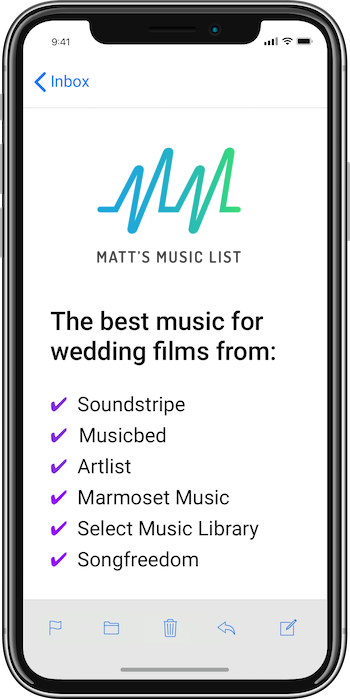 One
Music licensing sites release hundreds of new tracks per month.
TWO
We sort through the new songs and pick our favorites.
THREE
We tell you our favorites and how we would use them.
What we provide
We'll list out our top songs, describe how we think they can best be used, and link directly to the service where you can purchase them. Here are a few examples.
Building upbeat song that would be great for prep or dancing. It also hits well at the 2:59 mark for an even more epic moment.
AVAILABLE ON SOUNDSTRIPE
Fun and funky dance track with lyrics that would be great for reception dancing. Plus, there's an instrumental version!
AVAILABLE ON MUSICBED
Cinematic building song that hits fantastically at the 1:58 mark with some soaring background vocals. Great for a ceremony or a first look moment.
AVAILABLE ON ARTLIST & SELECT MUSIC LIBRARY
Emotional and dramatic song with an orchestral build that hits at the 1:28 mark. Would work great for a wedding ceremony.
AVAILABLE ON SONGFREEDOM
"We spend sooo much time searching for music and we think this would be valuable to a lot of people"

Vow of the Wild

"This will save me sooooo much time you have no idea!"

Max Bernard Wedding Videos

"This is definitely a needed resource in the wedding filmmaker community."

Films by Andy